Better ChatGPT is an innovative and cutting-edge app that offers an exceptional conversational AI experience through the utilization of OpenAI's powerful ChatGPT API. You can enjoy the limitless power of our chatbot without any cost or restrictions.
Our app is designed to cater to a wide range of interests, from those who want to converse with a virtual assistant to those who want to improve their language skills. The app is an ideal platform for anyone seeking to have a fun and engaging conversation.
We are committed to providing a seamless and personalized chat experience, with features such as intelligent chatbots, language learning tools, and customized conversation options. Our app is user-friendly and easy to navigate, allowing you to explore and discover all the exciting possibilities that Better ChatGPT has to offer.
Better ChatGPT comes with a bundle of amazing features! Here are some of them:
Available for Windows, Linux (AppImage), and macOS
Proxy to bypass ChatGPT regional restrictions
Prompt library
Organize chats into folders (with colors)
Filter chats and folders
Token count and pricing
ShareGPT integration
Custom model parameters (e.g. presence_penalty)
Chat as user / assistant / system
Edit, reorder and insert any messages, anywhere
Chat title generator
Save chat automatically to local storage
Import / Export chat
Download chat (markdown / image / JSON)
Sync to Google Drive
Azure OpenAI endpoint support
Multiple language support (i18n)
Unlimited local storage
Runs locally (access Better ChatGPT even if the website is not accessible)
Sync to Google Drive
Simple mode
Folder colours
Azure OpenAI endpoint support
Desktop minimise to tray
Environment variables support
Create new chat in folder
Prompt import and export
Search and filter chats / folders
Shortcut "save and submit" when editing message
Option to "Enter to submit" or "Shift + Enter to submit"
Update New Folder icon
Generate title in user's language

How to use?
To get started, simply visit at https://bettergpt.chat/. There are 3 ways for you to start using Better ChatGPT.
Enter into the API menu your OpenAI API Key obtained from OpenAI API Keys.
Utilise the API endpoint proxy provided by ayaka14732/ChatGPTAPIFree (if you are in a region with no access to ChatGPT)
Host your own API endpoint by following the instructions provided here: https://github.com/ayaka14732/ChatGPTAPIFree. Subsequently, enter the API endpoint into the API menu.

Platforms
License
The project is released under CC0-1.0 License.
Resources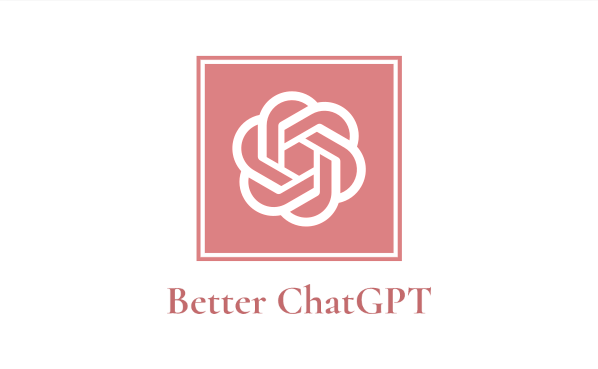 Related Articles in ChatGPT