File compression and decompression are daily operation for almost all type of users.
By default, some operating systems like macOS and Windows supports Zip format as the default compressed file format. Users can compress and decompress files with one click.
However, other file compression formats like (RAR, ACE) are not supported by default, especially as they offer other useful features like secure encryption, large file partitioning and password lock.
Advanced users on macOS can use terminal-based applications to manage their compressed files with other formats like RAR, ACE and TAR.
But, not all users like to use the terminal. So here, we have collected the best free desktop archiver apps for macOS.
1- Keka
Keka is a free, strong yet a simple archiver app for macOS. It supports AES-256 encryption, legacy Zip file format, 7z files format.
Creates compressed files in these formats: 7Z, ZIP, TAR, GZIP, BZIP2, XZ, LZIP, DMG, ISO, BROTLI, ZSTD, LRZIP and WIM.
It also extracts all these formats: 7Z, ZIP, ZIPX, RAR, TAR, GZIP, BZIP2, XZ, LZIP, DMG, ISO, BROTLI, ZSTD, LRZIP, LZMA, EXE, CAB, WIM, MSI, PAX, JAR, WAR, IPA, XIP, APK, APPX, XPI, CPGZ and CPIO.
The current version of Keka requires macOS 10.10 or newer. However, if you have an older machine with macOS version before 10.10, you can still use Keka older version.
2- The Unarchiver
The Unarchiver is a lightweight free file compression utility for macOS. It promotes itself as a RAR file utility for macOS, but it can handle all popular format like ACE, 7z, ISO, CAB, Gzip, *bit, BenHex,  MacBinary, Apple Single File (As), BZip2, and more.
It also supports rare, unusual and old formats.
3- B1 Archiver
Bi Archiver is an impressive file archiver utility for macOS, Windows, Linux, and Android.  It is also free, lightweight and comes with a long list of supported file formats.
Bi Archiver also has its open-source archiver format (Bi Archive) which offer a high-speed compression ratio. Begin open-sourced, many open-source developers supported the project.
The format (Bi Archive) is free and available for both personal and commercial use.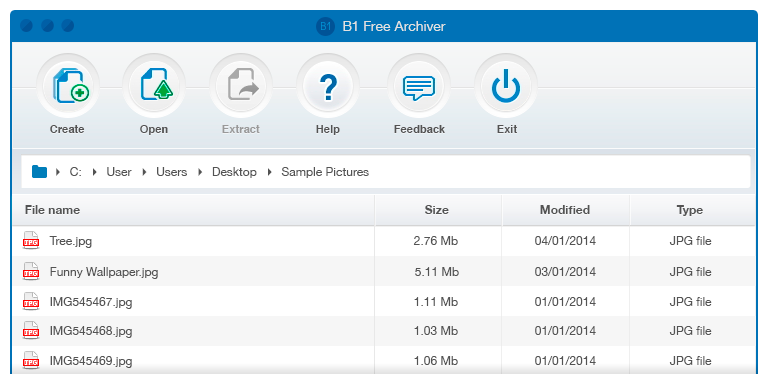 4- Zipper
Zipper is a classy macOS archive manager, it comes packed with a set of useful features that make managing compressed files a blaze.
Zipper supports browsing and viewed compressed files. It also offers a simple user-interface with drag-and-drop support, a queue manger, macOS finder integration, custom file extraction as you can extract selected files only and more.
As all other top apps in this list, Zipper comes with AES encryption support and password protection for secure file sharing.
Zipper requires macOS 10.10 or late.

5- StuffIt
StuffIt is a free macOS utility to unzip and decompress zipped files created by WinZip, 7z, iShrink, WinRAR and other Windows and macOS file archiver apps.
It also supports some old and rare file formats as well as converting some old zipped files with BinHex to Zipped files.
StuffIt is available for macOS 10.5.8 and later, iOS (iPhone and iPad) and Windows.
6- UnaceX
The UnaceX is an open-source ACE file decompressing utility for macOS systems. It supports encrypted files and large files.  Unfortunately, the project didn't get any update for years.
7- IZIP
IZIP is yet another tiny free macOS utility for compressing and decompressing large files, password-protected file archives and AES encryption.
It currently supports ZIP, ZIPX, RAR, TAR, TAR.GZ and 7ZIP files with more to come!
8- AceXpander
Over than a decade ago, Windows users create ACE file archive format with WinACE on their machine. Then comes AceXpander to decompress the ACE files on macOS. However, AceXpander's last release was 2006, and it may not work well on new macOS releases. But, it has other  alternatives now.

---
If you know of any free or open-source macOS archiver utility, please send us a note and we will gladly add it to this list.