Google Keep is a note-taking web app, hosted and managed by Google Inc. As it is simple, easy to use, and comes with mobile apps for iOS and Android devices, it becomes the main note-taking app by people around the world.
Evernote as well as a note-taking free service that comes with paid plans for all sorts of users. It offers dozens of features for enterprise users.
However, some may need their own note-taking service hosted at his server, for privacy reasons and/or to control and own his data. So, we collect the best open-source free Google Keep alternatives, aiming to enrich the community with more choices.
Why do you need your Google Keep alternative?
Open-source
Self-hosted
Privacy
More features
Own your own data
1- PaperWork
PaperWork is an open-source alternative for Google Keep, Evernote, and Microsoft OneNote. It has a productive editor-friendly interface, allows sharing and exporting for notes.
Installing PaperWork can be difficult for users without tech experience, but it is worth the effort. However, you can install it using Docker as well.
2- Turtl App
Turtle App follows the concept of Google Keep as it uses cards to display, organize, and manage notes. It uses high-end cryptography to protect notes and data.
Turtle offers a server, desktop application, and mobile apps which you can download and use for free. Windows, macOS, and Linux build are also available.
With Turtle, you can add notes, share them, add tags, use Markdown syntax and add custom note spaces, collaborate and share notes among your teammates and friends.
3- Carnet
Carnet is an open-source note-taking app for mobile for iOS and Android devices. Although Its look resembles Google Keep, it offers more editor-friendly features like WYSIWYG, Full-text search, dark theme mode, and advanced media manager.
Although Carnet is not a self-hosted app, it uses personal open-source self-hosted cloud services like (NextCloud and OwnCloud) as data stores to store and sync notes. So, if you are already using NextCloud or OwnCloud consider using Carnet.
Carnet is available as a mobile app (iOS and Android), Linux app, and macOS app.
4- OpenNote
OpenNote is a note-taking app. It can be installed easily using Docker Compose.
The developers utilize CouchDB and PouchDB to allow a full offline experience when the internet connection is lost. It also offers full multi-user support, a touch-friendly, user interface, a responsive design, and a folder app.
5- Lean Note
Lean Note is a new open-source note-taking app built with Go programming language and uses MongoDB as a database backend.
The primary feature of Lean note is its fancy interface, which looks like macOS Notes app. It also includes a rich editor, a distraction-free mode for authors and writers, export notes to PDF, batch-note management (unique), VIM and Emacs editing modes, customizable themes, and more.
12- PlainPad
PlainPad is a free open-source self-hosted note-taking app created using PHP and MySQL as a database backend store.
PlainPad features multiple user support, agenda, email notification, Markdown note editing, offline editing, and auto-update features.

7- GitJournal
GitJournal is an open-source note-taking app that integrates fully with Git service as it uses as a repo for your notes.
It comes with dozens of features like collaboration, multiple editor sets, a mobile interface similar to Google Keep, and Git synchronization.
8- TiddlyWiki
TiddlyWiki is a portable one-file wiki app that has been around for more than 17 years. If you like portable innovative apps, certainly you will like this one.
Despite its lightweight one-file portable option, TiddlyWiki is packed with dozens of features and a large community of loyal developers who keep it in shape.
TiddlyWiki can be used as a resume, personal website, personal note-taking app, or even a project management app. It is up to you if you want to use it on your desktop or in the cloud.
9- Laverna
Laverna is a free open-source note-taking and markdown editor software with privacy options and intense encryption. It comes as a server self-hosted app or desktop apps with full desktop integration.
Laverna is the right choice for book editors and authors as it has a distraction-free mode and a productive editor which uses Markdown as well as WYSIWYG editor.
10- Notea
Notea is an open-source note-taking app that uses Amazon S3 to store all data. The project has a clean productive interface, set of editing, and organization features to organize notes, articles, and book sections.
Notea is a self-hosted open-source project, so you can install and run it from your server.
Currently, the project is going under heavy development, so expect more features soon.
---
Extra
Foam
Foam is not a note-taking app, rather it is a complete knowledge-base management system built on top of VSC ode and several of its extensions.
It is not the right tool for normal daily users or people who want to take notes on-fly, but it is beneficial for developers and software engineers to organize and manage their documentation and knowledge.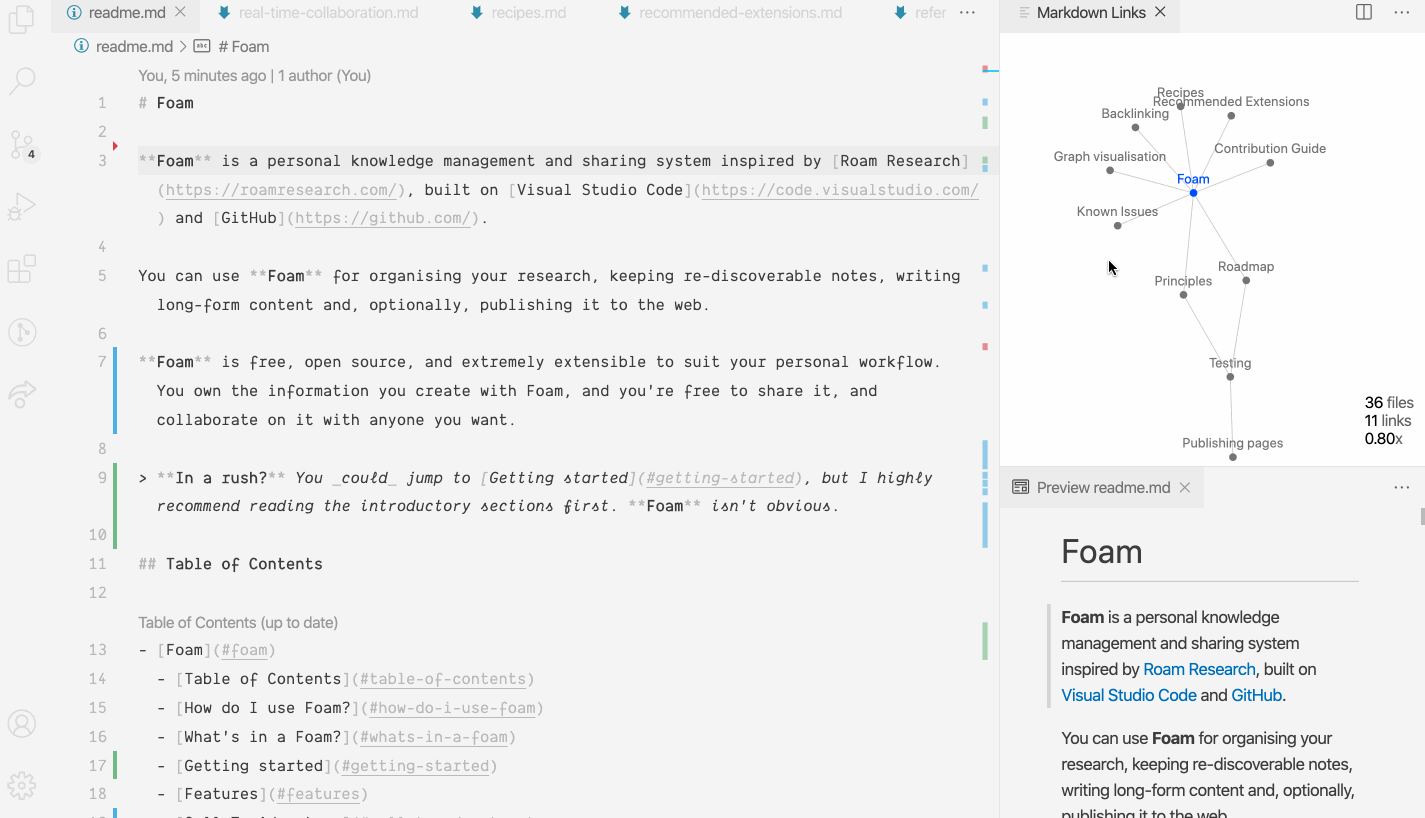 Conclusion
Best Google Keep Alternatives and Evernote – Last but not least, all the above-discussed Alternatives have different specifications that attract its user. In the end, every Alternative has its own advantages that attract its users, to achieve optimum output from any tool make a detailed roadmap for selecting tools for any kind of operation.