CCTV or closed-circuit television system makes use of camera networks and monitor to watch and monitor of interior and exterior of a property.
Companies, museums, art galleries, and houses are using CCTV networks for video surveillance and security.

There are dozens of commercial CCTV software packages.However, as they vary in price and features, they are also not for everyone.
In this article, we present a collection of free and open-source CCTV and DVR (Digital video recorder) solutions.
Our primary goal is to promote open-source and offer reliable alternatives to commercial solutions.
---
Free Open-source CCTV, NVR and DVR packages
1- iSpy
iSpy is a free and open-source multi-platform CCTV system that offers DVR agents and a rich plugin list.
You can run it on Windows, Linux, macOS, even ARM, and Docker. It also supports 32 and 64 bit.
Agent DVR features multi-monitor support, unlimited cameras, multiple camera types (like USB cameras), data recording, sensor support, thermal cameras, recording with GPU support, alerts, remote access, and a long list of integration-ready service sockets.
However, if you want to use it remotely with other fancy features, you can subscribe for about $8/ month for the basic plan.
2- ZoneMinder
ZoneMinder is a free open-source video surveillance software package for home security, industrial usage, and house care.
ZoneMinder features a scalable NVR/ DVR system, install wizard, developer-friendly API, mobile and desktop apps, third-party plugins, and integrations.
Furthermore, It supports remote access, all sort of known cameras, 4k cameras, GPU image processing, and Raspberry Pi setup.

3- Shinobi  
Shinobi is a free and open-source web-based CCTV system. It is written with Node.js and offers an easy-to-use interface.
Because it is easy to install and configure, Shinobi can be used for baby monitors, stores, houses, and constructions sites, and more.
Shinobi utilizes WebSocket technology, which provides you with a real-time video stream directly to your browser. It also supports recording in modern video formats like MP4 and Web.
Shinobi comes in two editions: Shinobi CE; a free community edition under GPL v3 for small office setup and houses, and Shinobi Pro; a professional edition with a commercial license for a large setup.

4- Kerberos
Kerberos is an open-source security platform to build scalable and distributed video surveillance security systems.
The project consists of:
an agent (Kerberos Agent) to record video streams and scale cameras with Kubernetes,
a Vault (Kerberos Vault) which store videos with full offline and on-premise support and offers a machine-learning integration
a hub (Kerberos Hub) which analyzes the video streams and video files.
Kerberos Agent is a complete security system that works on the web, desktop, and mobile. Besides, it has a Raspberry Pi image, and a docker container that runs on AMD, ARM7, and ARM64.
While the agent is a free open-source project for anyone to download and use, the other parts are built for enterprise use.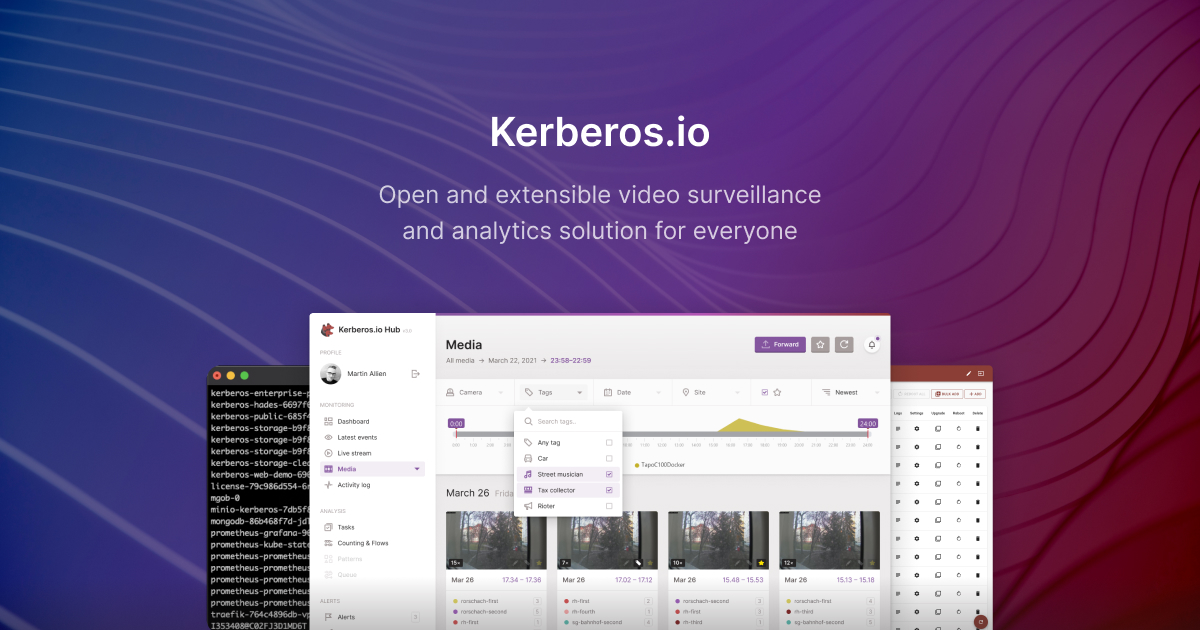 5- Bluecherry
Bluecherry is a free open-source Linux-based video surveillance application. It has a low memory footprint, supports ONIVF, and uses GPU for motion detection.
Bluecherry features automatic camera detection and adding, a web client for configuration, a cross-platform client, multiple user support with roles and permissions, and an easy-to-install wizard.
Unfortunately, Bluecherry is no longer available. We have listed it here, because it is still usable, as it has many users.
6- Motion
Motion is an open-source video surveillance monitor program that supports many cameras and devices.
With Motion, you can record from IP cameras, save videos or pictures, invoke or trigger certain scripts when certain events occur, log all activities into a database, follow and track motion detection.
Furthermore, Motion supports network cameras visa RTSP, RTMP and HTTP, Raspberry Pi cameras, V4L2 Webcams, Video Capture cards, and more.
Motion app also works as a video analytic software for existing video and movie files.
Motion Features Highlight:
Create videos or save pictures of the activity
Passthrough recording from many IP cameras
View live stream of cameras
Invoke scripts when activities occur
Log activity into multiple types of databases
Fully customizable masks for privacy or motion detection
Full tls(https) support with authentication for webcontrol and streams

7- DeepCamera
DeepCamera or SharpAI is open-source software packages that add AI Face Recognition/ Person Detection to NVR "Network Video Recorder" systems.
It turns any camera into an AI-powered machine. It runs on Raspberry Pi, Android, PC, or even AWS.

Not only that, but it works seamlessly on Nvidia Nano GPU and uses a Telegram bot for notification.
8-  OpenCCTV
OpenCCTV is an open-source server application that provides an analytic platform for CCTV cameras. It consists of 3 components: a web application (OpenCCTV), OpenCCTV server, and an analytic Server.
10- JeVois
JeVois is an open-source intelligent machine vision quad-core camera. It works with all sorts of cameras like Webcam and CCTV cameras.
JeVois aims to help developers build artificial intelligence apps. It comes with a dozen of samples and libraries.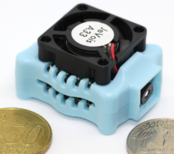 9- MONITOR
Monitor is a free open-source monitor software for security cameras, IP cameras, Radios, and TVs.
It features.m3u playlist support, video display, video recording, many video formats support, multiple monitors, web MRLs and IPTV channels.
Monitor works in a portable mode, which means no installation is required.

10- BioSuite Professional
BioSuite Professional is a complete security suite for employees and a security camera management system.
BioSuite supports internet cameras, CCTV, Webcam. It also has a built-in employee and personnel manager, fingerprint identification system, and barcode and smart card recognition.
Moreover, it offers a session manager and multiple computer interfaces for corporate and enterprise usage.
The project source code is available in C#.

11- Dolphin DVR Player
This software package is a custom CCTV, HVR, NVR, and DVR video player. Dolphin DVR Player makes it easy to browser, display, export, and manage security videos easily.
It is a lightweight Windows app that works for Windows XP, Vista, 7, 8, and 10.

12- Frigate
Frigate is a free and open-source NVR solution with real-time object detection for IP cameras. It is designed for Home Assistant and comes with a rich set of features.
It utilizes TensorFlow and communicates with other devices over MQTT, which eases device integration.
Frigate features video recording, re-streaming, motion detection, and supports multiprocessing.
13- zmNinja  
zmNinja is a cross-platform client for ZoneMinder built on the Ionic platform.
zmNinja works on Android, iOS, Windows, macOS, Linux, and the web.
Its features include multiple ZM server support, live view, even view, timeline view, push notifications, responsive design, and smooth performance.
Even though, the project released a discontinuation notice this year, it still has many users worldwide.
14- Viseron
Viseron is a self-hosted NVR system that comes with object detection. The system is written in the Python programming language.
It offers real-time video analysis, object detection, face recognition, motion detection, CUDA support for GPU, and full NVIDIA Jetson Nano support.
A specific image can be built for Raspberry Pi3B+, Raspberry Pi 4, and NVIDIA Jetson Nano.
Viseron offers camera control over MQTT, Home assistant integration via MQTT, zone to limit detection, and multi-arch Docker containers.
15- Simple NVR
Simple NVR is a new open-source simple network video recorder written in Node.js.
The project connects multiple camera streams using FFmpeg over TCP and UDP. Besides, it allows saving the stream into .mp4 files.
16- motionEyeOS
motionEyeOS is a Linux distribution that turns single-board computers (SBCs) into a complete video surveillance system.
It works smoothly on Raspberry Pi, Orange Pi, and many other SBCs. It requires tech knowledge to install, configure and run.
Here is a tutorial on how to get it working on Raspberry Pi.
17- ContaCam
ContaCam is a Video Surveillance software for Windows (7 to 10) machines.
ContaCam features CCTV support with motion detection, multilingual support, manual records, multiscreen support, easy installation, re-streaming of the video feeds, and Webcam support with the audio feed.
Note that, ContaCam does not have Windows Vista or Windows Server 2008 support, as it was dropped by its developers.
18 -Yawcam
Yawcam (Yet another WebCam) software that turns your webcam into a security surveillance device. It features real-time video streaming, motion detection, text and image overlays, FTP upload, time-lapse movies, web browser view, runs in the background, and multiple languages support.
Although the package is written in Java, it is released only for Windows machines.
19- Ivideon
Ivideon is a CCTV solution for Linux. It does not require a state-of-art computer machine to run, rather than Intel® Atom™ Processor, 1 GB RAM, 500 MB for the software, and 11 GB for daily video archive recording.
It is an affordable solution for businesses, homes, and industrial use. Not only that, but it also offers iOS and Android apps.
Although it is available for Ubuntu-based desktops, Windows, and macOS.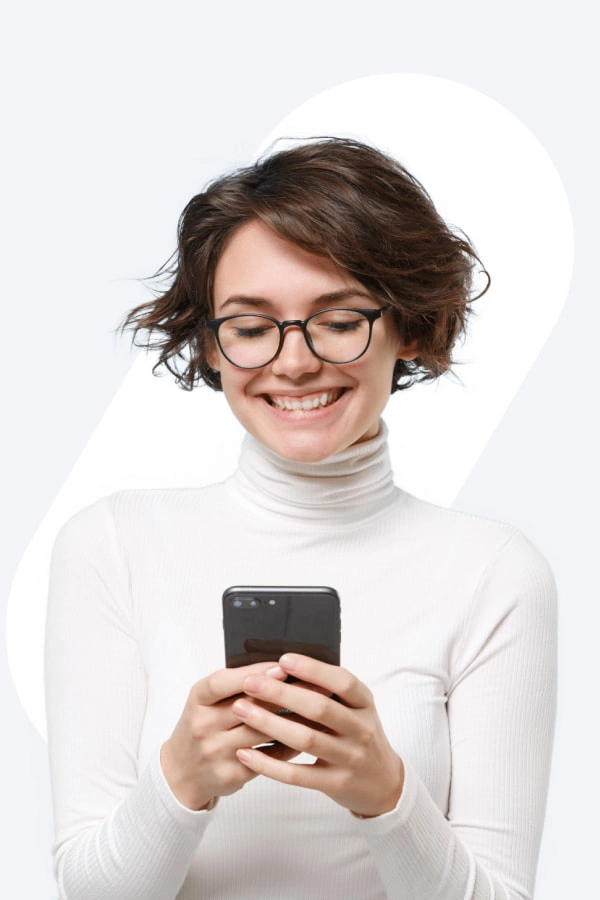 20- ONVIF
ONVIF is an open industry forum and a community to promote and standardize interfaces for IP-based physical security products.
ONVIF offers specifications, schemas, and guidelines.

In the end
Here, we listed our finds of the best open-source CCTV and DVR solutions. We hope it will serve as a guide for those who are looking for reliable solutions.
If you know of any other similar solutions that we didn't mention, please let us know.
---