Collaborative writing is a term referred to team and group of writers involving in writing and editing the same document or writing project.
The project can be an essay, a technical documentation, a book, or  a research paper.
When groups and teams join together in a writing project, They often face the challenge of choosing a tool.
Are you a researcher, book writer or a novelist? Maybe you are a technical writer or a software developer who works with a team.  It's essential for you and your team to choose the right tool for the job.  So according to your use-case what's your best option? That's what we are trying to answer in this article.
Who needs collaborative writing?
Book writers
Researchers
Screenwriters
Software engineers and developers
Historians
Students
Many prefer to choose a free cloud service like Google Docs, Microsoft cloud office or Zoho. However, some may require to have their project managed by a self-hosted solution and free to make sure they are in control as they own their data.
If you are interested about open-source tools for writers and editors, we have created a new list here:
So here in this article, we will offer the best open-source alternatives that can be used to offer a unique collaborative writing experience.
Self-hosted collaborative text editors
1- Etherpad


We have picked Etherpad first not just because of its powerful text editing capabilities but also its powerful communication tools which ease the teamwork.

Etherpad has a rich commenting system with parent-child reply options. It also offers a video conferencing option for the team members editing the same document.

In addition to previously mentioned features, Etherpad comes with import/ export functionalities, modular system with an ecosystem with 250+ plugins and over all it's easy to install and use.

We have covered all Etherpad features in this article.
2- Hackpad

Hackpad is a real-time web-based Etherpad wiki engine.  So basically you have an Etherpad version on fire with more collaborative tool.

Thu, the project is not in active development for 3 years. But it has a solid community behind it.

3- CryptoPad

CyrptoPad is a decentralized open-source cloud collaborative document management system. It offers many collabortive options, starting from rich text, code, and sheet editing to presentation management, polls, whiteboard manager, and kanban boards.

It's the ultimate alternative for Google Docs, sheet, and presentation apps.

Furthermore, CryptoPad is secure as it's built to maintain user's privacy. It's private but not anonymous.

CryptoPad is based on ChainPad real-time engine, which is a real-time collaborative editor algorithm based on Nakamoto Blockchains.


4- Wiki.js


Wiki Engines are a collaborative writing platform by default. However, we would not pick any Wiki for you. We choose Wiki.js simply because it's a lightweight solution with rich-features set for the enterprise and professional teams.

Wiki.js is an easy-to-install modular system with multiple editors options as it support markdown, WYSIWYG, HTML editor, and LaTeX.

It offers a rich collaborative experience, alongside a solid versioning control system, a user management with access control and page rules.

In Medevel.com we really like Wiki.js as we recommend it to our enterprise clients, If you are interested to know why do we like it, please refer to this article: Wiki.js: A Modern Open-source Wiki Engine for the Enterprise.

Although, Wiki.js does not real-time collaborative options or flexible import/ export options, it's a great tool for writing online documentation or web-based writing documents.
5- BookStack

BookStack is a lightweight content management system for Wikis and book writers/ editors.  Despite the name it can be used for all sort of collaborative writing projects.

BookStack is packed with features which primary focuses on writing/ editing content and organizing pages in hierarchical order.

It offers an optional markdown editor instead of WYSIWYG built-in integrated one. Moreover, It supports dozens of languages however, there is nothing about RTL language support mentioned in the doc.

BookStack has a full-text search functionality, image manager, book sorting option, and offers a profile page for authors.

Besides the default email/ password and social login options, BookStack offers multiple authentication options which are required in enterprise workflow like GitHub, Slack, AuzreAD, Okta, and LDAP.

Compared to other projects in this list, it's important to mention that BookStack not flexible or modular to be used in other than its primary intended use.
6- GitBook
Git is a version control system for tracking changes in code. Some technical writers and software developers have found away to utilize GitHub/ GitLab for writing documents, articles, and books.

Besides its version control capabilities, Git eases collaboration between developers while working on the same project.

However, it's not easy to use for non-technical users. So here we have GitBook.

GitBook is an editor that eases using Git repos for writing books. It's basically a markdown editor with a powerful version control system.

So you don't need to be a technically advanced Git user to be able to use GitBook.


7- FirePad

FirePad is a collaborative code and rich text editor for teams. It features a real-time synchronization, text highlighting, user attribution, presence detection and version check pointing.

Unlike the other projects in this list, FirePad can be easily embedded in other project with a simple code snippet. At the end, this option results in a swarm of web projects that use FirePad.

One of the selling points for FirePad is it can be used to build a collaborative writing tools. There is no wonder here why many developers prefer FirePad.
8- FidusWriter
FidusWriter is built specifically for researchers. It supports LaTeX, ePub, JATS, Microsoft Document format (DOCX) and Open Document Text format (ODT).

FidusWriter is the best option for academic collaborative writing. It comes with built-in academic citation manager, metadata browser, paper style editor and multiple-location publishing support.

If you want to know more about FidusWriter, We've got you covered here: Fidus Writer: Open-source Self-hosted Editor for Researchers.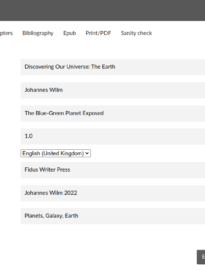 9- CodiMD (HedgeDoc)

CodiMD is a self-hosted real-time collaborative markdown editor. It features dual-pane markdown editor, image uploads, table, checklist, commenting, revision control, slide mode support and multiple export formats.

CodiMD offers an import/ export option from Gist.

The project is completely free and open-source and licensed under AGPLv3.0.
10- Cattaz

Cattaz is an open-source collaborative web-based markdown editor that is built to increase team productivity as it comes with built-in Kanban feature with task manager.

It has different use-cases as it can be used in workshops, events, agile development and telework sessions.

Cattaz can be used to develop real-time writing/ editing projects.
Conclusion
Undoubtedly, Collaborative text writing editors come in all shapes and sizes with variety of options and features. However, hence we collected the most powerful open-source ones. It's advised to check the requirement before choosing the tool.
If you have any comment, please send us a message.