An email client software is as its name implies; A way of retrieving your mail from your provider's servers and downloads it to your computer's hard drive; Once the client has retrieved your email, you can read it at your convenience and continue to access it even when you are not online.
Let's say that all emails travel over the internet and are stored on email servers. They are meant that an email server can belong to a Webmail.
Webmail (web-based email) is an email service that can be accessed by using a standard web browser.
You can think of an email server like the post office where your mail is collected and stored until it's delivered to you.
Webmail and email clients are two ways that you can send and receive emails.
However, our article here is about macOS desktop mail clients, but first let's talk about open-source email client.
What are Open-Source Email clients?
The difference between commercial email clients and open-source email clients is that the library that used. It should be licensed under one of the known open-source licenses, such as GPL, MIT, and others.
The Email client is a software program that you can install on your computer that allows you to interact with an email server. The Email client is extremely useful; It can be used to send or receive new emails. An email client must be connected to the Internet and configured to access your service provider's email servers.
The Benefits of Using Open-Source Email clients
Mainly, you get few or no restrictions at all on the commercial usage for your application, as the open-source Email clients will allow you to use them for whatever use case you may need.
Furthermore, most — if not all — open-source email client toolkits in the market are also free of charge, saving you tons of money instead of using the proprietary ones.
If you are an ordinary user looking for open-source Email clients for your macOS, then these will be suitable for you.
Some users may look for an open-source self-hosted webmail client, for those, we got you covered with this list: Top 15 Self-hosted open-source free webmail clients.

Top 10 Email clients open-source for macOS
It is a 100% free and open-source desktop email client. In other words, you can use it for Enriched contact profiles, Unified inbox, support unlimited email accounts, Unlimited customizable signatures, Multi-language spell check, Enhanced search capabilities, and more.
You can also easily compatible Nylas with Gmail, Yahoo, and more. It has several layout styles it was the beginning of 2016, it was licensed under MIT License. Nylas Mail was available for Mac, Windows, and Linux. it was built on the modern web with Electron, React, and Flux.
You may download Nylas Mail from here.
Thunderbird is an open-source email client program, written in C++ and is released under the Creative Commons license.
Thunderbird works on Windows, macOS, and Linux. Its development started back in 2003. Thunderbird features come with speed, privacy, customizable, Junk filtering, message management, Extensions, and themes.
Thunderbird also supports File formats, and HTML formatting, and code insertion. While the code is written in C++, C, JavaScript, and Rust.
So if you are looking just for the basic Email clients that compatible with any mail, then you will find it only compatible with MailExtensions; MailExtensions are WebExtensions with specific features.
Learn more about Mozilla Thunderbird from its official website.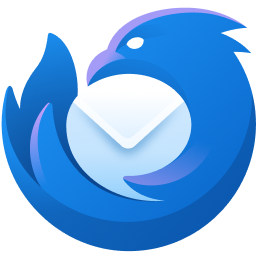 Mailspring one of the Email clients software, its development started in 2017.
Mailspring main features include its boost your productivity and improve dealing with email, advanced Search, ability to create custom signatures, Translation, ability to using a single inbox for all of your email accounts, and a lot more.
This software was mainly built as a streamlined command center for all mail cause it supports every major email provider—Gmail, iCloud, Office 365, Outlook.com, Yahoo!, and IMAP/SMTP. It is written in C and works on Linux, Windows, macOS. Currently, it supports touch and gesture.
The software is probably available to install easily using the mail spring website; Just search for Mailspring in your browser. It is licensed under GPL-3.0 License.
You can access Mailspring source code from GitHub.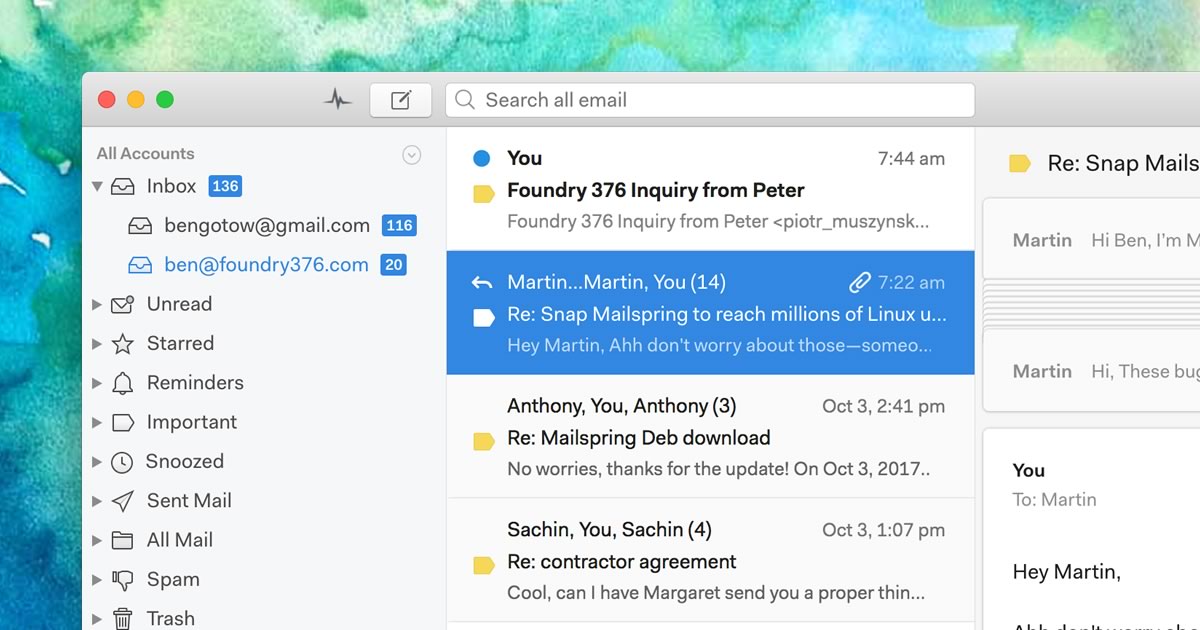 If you are hunting for something modern, then this one's for you.
Mailpile is a web-based email client open-source with user-friendly encryption and privacy features. The code is released under AGPLv3 and the Apache License 2.0. It is a fast web-mail client; The core of Mailpile is a fast search engine to deal with large volumes of emails.
Mailpile has a lot of features behind its other competitors is an e-mail client with a search engine, and a personal webmail server, it is an easy way to encrypt your email, it's providing a clean, elegant user interface and pleasant user experience, and it is an API for developers.
No pre-built support of any language (including English) is available.
It was written in Python, JS, HTML5.
You can learn more about Mailpile from the following link.
RainLoop Webmail a perfect choice for your email solution. It is an open-source web-based email client that is simple and fast with modest system requirements.
RAINLOOP supports IMAP and SMTP protocols including SSL and STARTTLS. It is Integration with Facebook, Google, Twitter, and Dropbox. it follows direct access to the mail server, but it is not stored locally mails on a web server, and its Manage folders list, Really simple installation and update, configurable multi-level caching system, and more.
RAINLOOP Written in Php. Licensed under GPL-3.0 License.
You can access RAINLOOP from the following link.
DejaLu is an open-source fast and simple Email Client for Mac.
Dejalu is software with amazing features. DejaLu can easily control your email notifications, it has a beautiful sidebar panel with folders to easily organize and filtered folder emails. You can customize your emails and add signatures to all your emails easily, it has Amazing Labels.
DejaLu licensed under BSD-3-Clause License. it started in 2016.
Check its DejaLu documentation page for more information, or you may visit GitHub to get the source code.
One of the oldest open-source Email Client systems, as its development started in 1998.
Unlike other systems, SeaMonkey is a web browser like any browser but with a special feature in this list, SeaMonkey is quite ready to manage your mail and folders in parallel with customizable Tags and Mail Views,  control of your e-mail from spammers, as it supports many languages (English, German, French, Turkish…).
it supports multiple accounts with IRC Chat ("ChatZilla") and more.
It also works on macOS devices and provides a unique Data Manager which allows you to central all kinds of site-specific data, including cookies, permissions (e.g. image blocking), preferences, passwords, and more.
You can download the SeaMonkey source code from here.
Another open-source Email client based on GTK+. Developed by a team of developers. Claws Mail includes a lot of useful features, a plugin mechanism, a fast message cache system, it supports Drag And Drops, also supports Multiple accounts, GnuPG support (with GPGME), Threaded display, Filtering, External editor, Mbox import/export, and more.
Claws Mail is distributed under the GPL.
Learn more about Claws from here.
An open-source messaging and emailing app that combines common web applications into one. Written in JavaScript and licensed under the GPL-3.0 License. It Supports Multi-language and Sync your configuration between multiple computers, Proxy, Disable a service instead of removing it, also you can Lock Rambox if you will be away for some time, it has Custom Code Injection, and more.
You can run Gmail from the Menu Bar (in macOS), by using Correo.
Correo remains active in the tray for quick usage. The software uses code from several open-source packages like Electron, Node.js, menubar.The code is released under the MIT license.
Correo's source code is written in JavaScript, so it should be easy for you to get familiar with it if that's the language you use.
Conclusion
We list above 10 of top open-source Email clients which works smoothly with MAC devices.
The email client can operate all the emails without any disturbance or complications. All the emails get managed in one place by signing in and accessing them through the namely tabs. All of these lists support the features like updating emails, saving notes, contacts, managing calendars, save notes, and more.
If you have any other recommendations for this list or comments in general, we would love to hear them below!