Sticky notes are small, colorful pieces of paper that can be stuck on any surface. They are a simple yet effective tool for jotting down important information, reminders, and ideas. Sticky notes are widely used in offices, schools, homes, and other places where people need to keep track of things.
Advantages of Sticky Notes
Sticky notes offer several advantages over other note-taking tools. Here are some of the benefits of using sticky notes:
1. Convenience
Sticky notes are convenient to use and carry around. They are small enough to fit in a pocket or purse, and they can be stuck on any surface, such as a computer monitor, desk, or wall. You can easily move them around or remove them when you no longer need them.
2. Visual Appeal
Sticky notes are available in various colors and shapes, which makes them visually appealing. You can use different colors to categorize notes or prioritize tasks. The bright colors also make them easier to spot, which helps prevent important information from being missed.
3. Flexibility
Sticky notes are flexible and versatile. You can use them to write down anything from a phone number to a shopping list to a brainstorming idea. You can also use them to create a to-do list or reminder, or to mark a passage in a book or document.
4. Collaboration
Sticky notes can be used for collaborative purposes. For example, in a brainstorming session, each participant can write an idea on a sticky note and stick it on a whiteboard or wall. This allows everyone to see and discuss the ideas together.
5. Environmentally Friendly
Sticky notes are a more environmentally friendly option than traditional paper notes. They use less paper and are often made from recycled materials. They also don't require staples or tape, which can be harmful to the environment.
Open-source Sticky Notes
1- GloboNote
GloboNote is a 100% free and easy to use desktop note-taking application. Packed with useful features that can run on any OS (Windows, Linux, macOS). You can use it to create sticky notes, to-do lists, personal journals, reminders and other notes all in one application. There are no limits to the number of sticky notes you can create. Notes can have different colors, assigned to different groups and searched using search tool.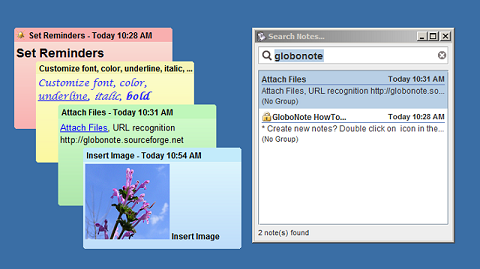 NoteBot is a clone of Microsoft Sticky Notes, without useless functionalities. It is available for Windows, GNU/ Linux, and macOS.
Simple Sticky Notes as its name suggests, is a simple, easy-to-use, absolutely free, fast and efficient note-taking software.
Sticky Notes is a self-hosted web-based full functional note-taking  with alluring user interface. Built using Django + jQuery.
ZoNote is a Cross-platform desktop note-taking app. Sticky notes with Markdown and Tabs. All in one .txt file.
. Desktop
📌 🗒️ simple GUI sticky note program created with tkinter.
Stayhome-board is a super web-based simple online sticky note collaboration tool. The app is written in React and TypeScript.

Sticky Notes for React Application, it uses Draft.js for real-time collaboration.
EverSticky is a Linux open-source sticky note client that syncs to Evernote. Displays rich text formatting.
Flawesome is a cross-platform modern productivity tool that will help you organize your day-today work and thoughts.
All the three application components i.e. The Notebook, The Sticky Notes and The Totalist are driven by the Calendar.
10- StickyNote Windows
This is a free and Open Source Sticky Note Application for Windows. It enables you to automatically Save Notes, Sync Your Note With Dropbox Account(Use This Account To Start Your Sticky Notes Where You Left Off),  Choose Background And Title Bar Color You Like, Editing Options Like Font,Bold,Size,Italic,List,Align.etc.
NoteSH is a fully functional sticky notes App in your Terminal! Built with Textual, an amazing TUI framework!
Sticky is a note-taking app for the Linux desktop that simulates traditional "sticky note" style stationery on your desktop. Some of its features include basic text formatting (bold, italics, monospaced, etc.), spell-checking, a tray icon for controlling note visibility, color notes, manual and automatic backups, and a manager to organize your notes into groups.
Sticky is written in Python, and uses the GTK3 toolkit
Sticky Notes is a simple note-taking application for the GNOME desktop. It is written in GJS and uses GTK4.
Sticky Notes is a Firefox add-on that enable Firefox to put sticky to a web page. Each sticky can have memo, and the size and position are changeable.
And sidebar displays the list of stickies, you can jump a selected sticky.
Abookmark is a browser extension for Google Chrome, and Mozilla Firefox that enables you to organize your bookmarks, add sticky notes, and write labels for your bookmarks.
MyNotes is a sticky note application. An icon appears in the system tray and from it, you can create and manage your sticky notes. Notes can be organized in categories, and you can set a default color for each category. Checkboxes and images can be incorporated in the notes. If your desktop environment supports compositing, the opacity of the notes can be modified.
MyNotes is designed for Linux. It is written in Python 3 and relies mostly on the Tk GUI toolkit.
MyNotes is available in Catalan, Dutch, English, French, German and Spanish. If you wish to add a new translation, you are welcome to contribute.

17- AHOY:  (Windows, Linux)
AHOY is a free and open-source feature-rich note-taking app that comes with dozens of other useful tools as checklists, alarms, notifications, multi monitor support and more.
An unlimited repository of notes with fast live search, password protection and encryption
Prioritize, categorize and colorize entries using the pinned list
Autosave, backup and restore features
Password generator
Notification alerts
Place up to 32 sticky notes on your desktops
Work on multiple entries at once using the detached PLOP Editor
Checklist templates with progress bar
Color themes and lots of customizations
Multi monitor support for all main editors and sticky notes
Calculator, message encryption, typewriter emulator, typing game and lots more...