A web analytics system is a software tool used to collect, analyze, and report data on website usage. It helps businesses and organizations understand how users interact with their websites, track key metrics, and make data-driven decisions to improve their online presence.
There are several open-source web analytics systems available, such as Matomo (formerly Piwik) and Open Web Analytics. These systems provide users with the freedom to customize and modify the software according to their specific needs. Open-source web analytics systems offer transparency, flexibility, and the ability to maintain data privacy.
Web analytics systems offer a range of advantages, including:
Data-driven decision making: Web analytics systems provide insights into user behavior, allowing businesses to make informed decisions based on data rather than assumptions.
Performance optimization: By analyzing website data, businesses can identify areas for improvement, optimize website performance, and enhance the user experience.
Marketing effectiveness: Web analytics systems help measure the impact of marketing campaigns, track conversion rates, and identify the most effective marketing channels.
Web analytics systems have various use cases, including:
E-commerce analysis: Businesses can track online sales, monitor product performance, and identify the conversion funnel to optimize the customer journey.
Content optimization: Web analytics systems provide insights into which content performs best, enabling businesses to create and promote engaging content that resonates with their target audience.
SEO analysis: By analyzing website traffic and user behavior, businesses can evaluate the effectiveness of their search engine optimization strategies and improve their website's visibility in search results.
User experience enhancement: Web analytics systems help identify user pain points, track website navigation patterns, and optimize usability to enhance the overall user experience.
1- Swetrix  
Swetrix is a privacy-focused, fully cookieless and opensource web analytics platform.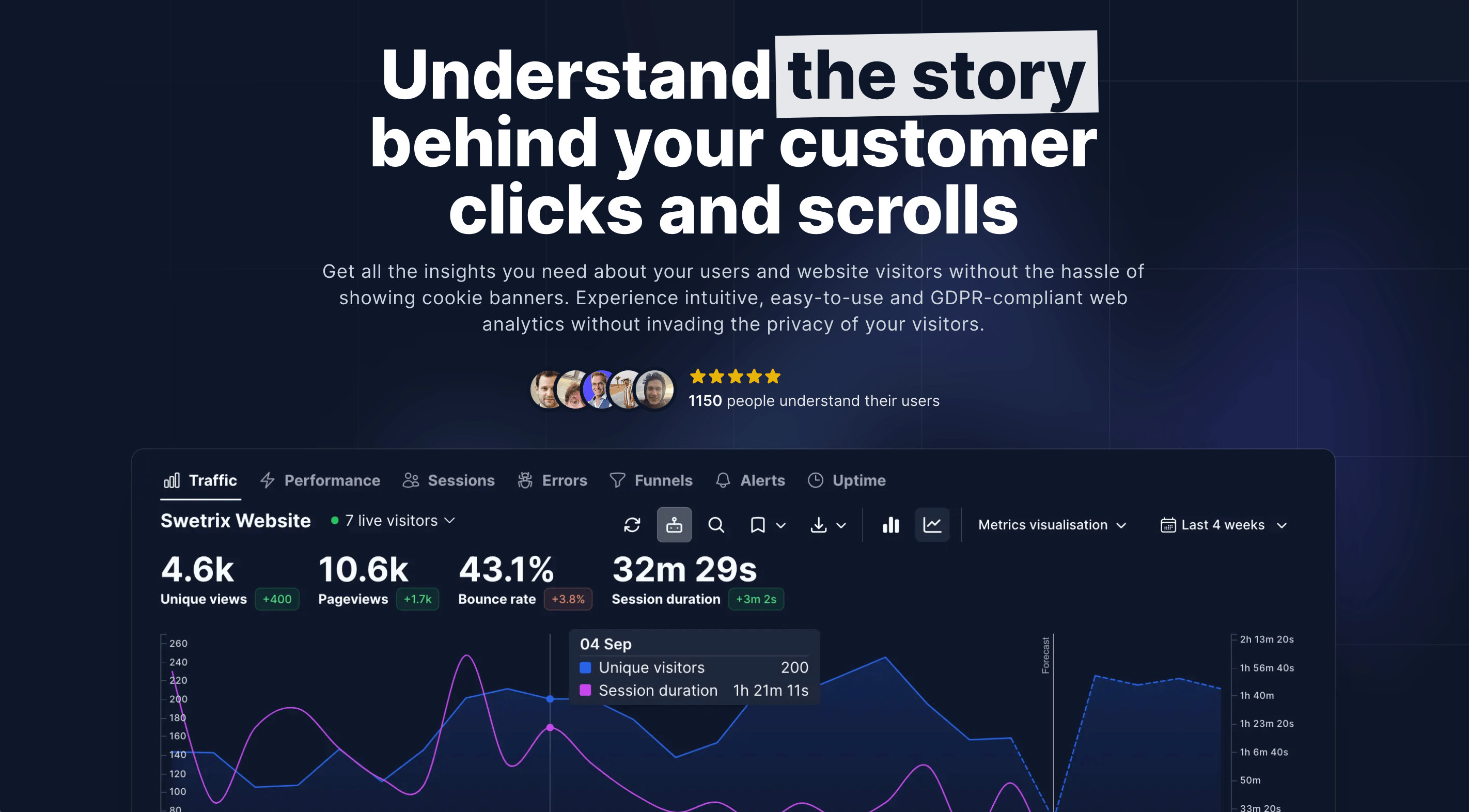 2- Offen
Offen is a free and open-source self-hosted web analytics system that keep visitor privacy intact. It comply with GDPR guidelines and does not include any third party invasive scripts.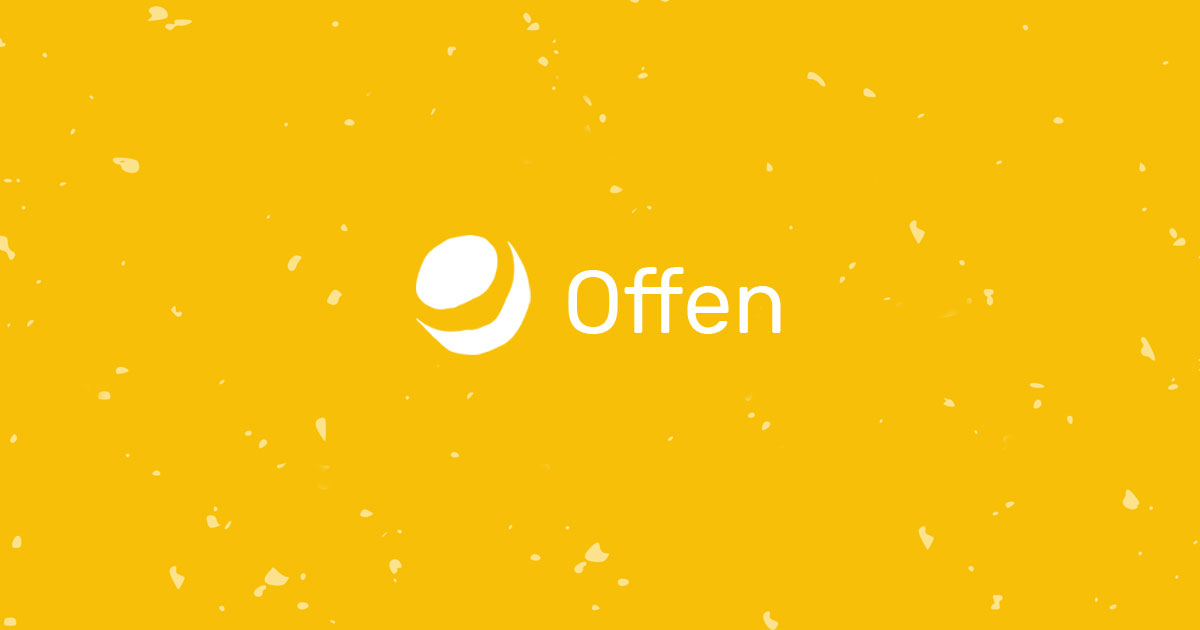 Pirsch Analytics is an open-source web analytics solution that allows reliable server-side tracking without cookies. Pirsch generates a unique fingerprint for each visitor using their IP address, User-Agent, date, and a salt.
It is privacy-friendly, GDPR-, CCPA-, and PECR-compliant, and can track visitors even with ad blockers.
4- Aurora
Aurora is a  free and open-source 100% Cookie-Free Open Website Analytics. Collect Anonymous Data. Make your Audience Happy Now!
5- Piratepex
This web analytics solution is a simple, privacy-respecting, no cookie, zero JavaScript, 35 byte counter pixel for websites, mobile apps, server-side APIs, CLIs, and just about anywhere else.
6- Freshlytics
Freshlytics is an open source privacy-friendly analytics software. It aims to be reliable, friendly to use and easy to deploy.

Features
Cookies are not used
Personally identifiable information (PII) is not collected
Switch between multiple projects
Slice the data within a date range
See the pageview in different dimensions like page urls, referrers, browsers etc
Currently focuses on website pageview tracking
Tracks visited page urls, referrers, browsers and browser versions
Supports multiple projects
Different projects can have different reporting timezones
Users can either be Admin or normal users
Admins can create/edit/delete projects and other users
7- Shynet
Shynet is an open-source modern, privacy-friendly, and cookie-free web analytics.
Features
Runs on a single machine — Because it's so small, Shynet can easily run as a single docker container on a single small VPS
...or across a giant Kubernetes cluster — For higher traffic installations, Shynet can be deployed with as many parallelized ingress nodes as needed, with Redis caching and separate backend workers for database IO
Built using Django — Shynet is built using Django, so deploying, updating, and migrating can be done without headaches
Multiple users and sites — A single Shynet instance can support multiple users, each tracking multiple different sites
JavaScript not required — It will fallback to using a 1x1 transparent tracking pixel if JavaScript isn't available
Lightweight — The tracking script weighs less than a kilobyte (and doesn't look like your typical tracking script)
Generally not blocked — Because you host Shynet yourself, it tends not to be on ad block lists
Primary-key integration — You can easily associate visitors in Shynet with their user accounts on your site (if that's something you want)
Metrics
Here's the information Shynet can give you about your visitors:
Hits — how many pages on your site were opened/viewed
Sessions — how many times your site was visited (essentially a collection of hits)
Page load time — how long the pages on your site look to load
Bounce rate — the percentage of visitors who left after just one page
Duration — how long visitors stayed on the site
Referrers — the links visitors followed to get to your site
Locations — the relative popularity of all the pages on your site
Operating system — your visitors' OS (from user agent)
Browser — your visitors' browser (from user agent)
Geographic location & network — general location of your visitors (from IP)
Device type — whether your visitors are using a desktop, tablet, or phone (from user agent)
8- Matomo
Matomo is the leading Free/Libre open analytics platform.
Matomo is a full-featured PHP MySQL software program that you download and install on your own webserver. At the end of the five-minute installation process, you will be given a JavaScript code. Simply copy and paste this tag on websites you wish to track and access your analytics reports in real-time.
Matomo aims to be a Free software alternative to Google Analytics and is already used on more than 1,400,000 websites. Privacy is built-in!
9- Ackee
Ackee is a self-hosted analytics tool that cares about privacy. We believe that you don't need to track every aspect of your visitors. Ackee keeps tracked data anonymized to avoid that users are identifiable, while still providing helpful insights. It's the right tool for everyone who doesn't need a full-featured marketing analytics platform like Google Analytics or Matomo.
Self-hosted: Ackee runs on your own server and is 100% open-source
Modern technologies: Lightweight Node.js and MongoDB architecture
Beautiful: Minimal and focused interface
No cookies: No unique user tracking and therefore no required cookie message
Events: Track button clicks, newsletter subscriptions and more
GraphQL API: Fully documented GraphQL API that allows you to build new tools upon Ackee.

10- GoAccess
GoAccess is a powerful open source tool used for analyzing and monitoring web logs in real-time. It offers an interactive viewing experience and can be accessed either through a terminal in *nix systems or directly from your web browser.
With GoAccess, system administrators can quickly obtain valuable HTTP statistics, allowing them to generate visual server reports on the go. This enables them to make informed decisions and effectively manage their servers.
For a live demonstration of GoAccess in action, you can visit the following link: Live Demo. Explore the various features and capabilities of GoAccess firsthand!
By utilizing GoAccess, system administrators can gain deeper insights into their web server's performance and make data-driven optimizations to enhance the overall user experience.
Features
Fast, real-time, millisecond/second updates, written in C
Only ncurses as a dependency
Nearly all web log formats (Apache, Nginx, Amazon S3, Elastic Load Balancing, CloudFront, Caddy, etc)
Simply set the log format and run it against your log
Beautiful terminal and bootstrap dashboards (Tailor GoAccess to suit your own color taste/schemes)
and of course, Valgrind tested.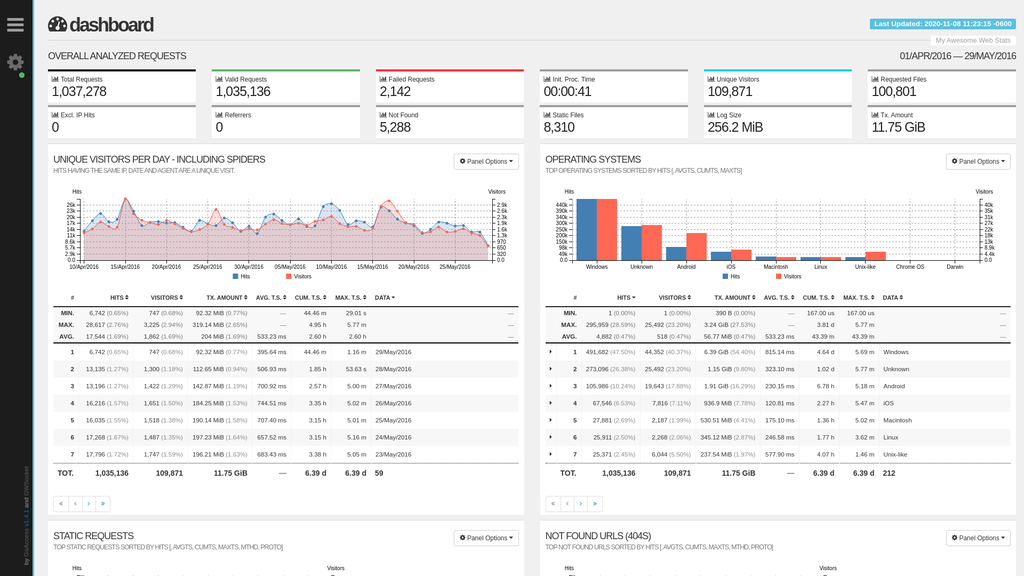 11- Counter
Counter is an open-source free web Analytics solution that is made simple and therefore privacy-friendly.
12- Awstats
AWStats is a powerful and featureful log analyzer tool that generates advanced web, streaming, ftp, or mail server statistics in graphical web pages. It can process large log files quickly and supports various log formats from major server tools like Apache, WebStar, IIS, and more.


13- Goatcounter
GoatCounter is an open source web analytics platform available as a (free) hosted service or self-hosted app. It aims to offer easy to use and meaningful privacy-friendly web analytics as an alternative to Google Analytics or Matomo.
Features
Privacy-conscious; does not track users with unique identifiers and does not require a GDPR notice. Offers precise control over data collection. Also refer to the privacy policy and GDPR consent notices.
Lightweight and fast; adds only ~3.5K of extra data to your site. Provides a JavaScript-free "tracking pixel" option, or you can use it from your application's middleware or import from logfiles.
Identifies unique visits without cookies using a non-identifiable hash (technical details).
Tracks useful statistics such as browser information, location, and screen size. Keeps records of referring sites and campaigns.
Easy to use; if you find the multitude of options and flexibility of Google Analytics and Matomo confusing and unnecessary, GoatCounter will be a breath of fresh air.
Accessibility is a top priority, and the interface works well with assistive technology such as screen readers.
100% committed to open source; you can see exactly what the code does, make improvements, or self-host it for any purpose.
Own your data; you can always export all data and cancel at any time.
Integrate on your site with just a single script tag
The JavaScript integration is a good option for most, but you can also use a no-JavaScript image-based tracker, integrate it in your backend middleware, or parse log files.
14- Plausible
Plausible Analytics is a simple, lightweight (< 1 KB), open source and privacy-friendly alternative to Google Analytics. It doesn't use cookies and is fully compliant with GDPR, CCPA and PECR.
You can self-host or have us run Plausible for you in the cloud.
15- Fathom Lite
Fathom Lite is an open-source version of Fathom Analytics, a paid alternative to Google Analytics. Although no longer receiving new features, it will be maintained and bugs will be fixed.
16- Umami
Umami is a simple, fast, privacy-focused alternative to Google Analytics.
17- Kindmetrics
Kindmetrics is a privacy-focused web analytics tool built on Crystal, offering simplicity, GDPR compliance, and no use of cookies. It prioritizes speed and efficiency, using minimal CPU and memory. The service follows strict privacy guidelines, utilizing EU-based services and enforcing privacy features like DNT.
With a small footprint and minimal third-party dependencies, Kindmetrics focuses solely on analytics and utilizes backend technology with some JavaScript.
18- Infinity Analytics
Infinity Analytics is a simple analytics platform for tracking pages that are viewed and HTTP referrers. It is built using Flask Python Framework and uses
19- Dashflare
Dashflare is a privacy-focused analytics solution that can be self-hosted and scales according to your needs. It uses Cloudflare Edge Worker for data collection and requires Grafana and Grafana Loki for data visualization and persistence.
20- Open Web Analytics
Open Web Analytics is an open source alternative to commercial web analytics tools such as Google Analytics. This software allows you to stay in control of the data you collect about the user of your websites or applications.
Features
Track visitors, pageviews, e-commerce transactions, and configurable actions
Track unlimited number of websites using a single instance of OWA Server
First party JavaScript tracker client
Reporting Dashboard/Portral
View and customize all reports
Generate Heatmaps
Generate "Domstream" session recordings
Geolocation of visitors
REST API for administration and data access
Multi-user reporting interface
Extensible framework via custom modules
---
Conclusion
In conclusion, web analytics systems are powerful tools for understanding website performance, optimizing marketing strategies, and driving data-driven decision making. Whether it's an open-source solution or a commercial platform, implementing a web analytics system can provide valuable insights and drive success in the digital landscape.