What is the EPUB format?
The EPUB is a popular e-book (or e-book) format and file extension that stands for electronic publications. It is a one file that compress a whole book within. It is appeared first in 2007, and originally developed by the International Digital Publishing Forum (IDPF).
EPUB or EPUB format is much easier to view, edit, customize style, fonts, colors than the PDF format.
Nowadays, the EPUB format is the favorite format among many popular book publishers and digital publishing agencies.
The EPUB digital book format requires a special program to display and read its content. There are many commercial and proprietary software for all platforms, so in this article we offer you an open-source alternative collection.

FBReader is a popular eBook reader that supports many eBook formats such as EPUB, Mobi, ETF, and fb2.

FBReader is not an open-source software, but it is avaiable for free for Windows, Linux, macOS, Android, and iOS.

Folite is a simple open-source, free eBook viewer for Linux systems.  It has a beautiful user-friendly interface, supports many eBook formats, allows the user to customize fonts, styles, and layouts, and comes with several viewing tools.
Folite supports several eBook formats which includes: EPUB (.epub, .epub3), Kindle (.azw, .azw3), Mobipocket (.mobi), FictionBook (.fb2, .fb2.zip), and Comic book archive (.cbr, .cbz, .cbt, .cb7).

Folite is available for all popular Linux distros on their official repos.

Kavita is a fast, feature rich, cross-platform reading server. Built with a focus on manga and the goal of being a full solution for all your reading needs. Setup your own server and share your reading collection with your friends and family.
4- Calibre
Calibre is a strong eBook suite that do more than displaying eBook files. It offers converter to convert eBook file formats, organize your eBook library and collections, and it works seamlessly on Windows, Linux, and macOS.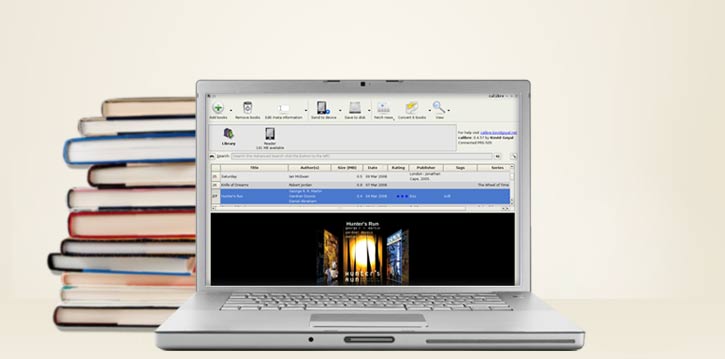 Sumatra PDF is a free PDF, eBook (ePub, Mobi), XPS, DjVu, CHM, Comic Book (CBZ and CBR) viewer for Windows. Sumatra PDF is powerful, small, portable and starts up very fast.

It supports Windows Vista, 7, 8, and Windows 10. It also offers a Linux version.

6- KOReader  
KOReader is a document viewer for E Ink devices. Supported file formats include EPUB, PDF, DjVu, XPS, CBT, CBZ, FB2, PDB, TXT, HTML, RTF, CHM, DOC, MOBI and ZIP files.

It's available for Kindle, Kobo, PocketBook, Android and desktop Linux. Runs on embedded devices (Cervantes, Kindle, Kobo, PocketBook, reMarkable), Android and Linux computers.

7- Eplee
Eplee is an ePub reader focused on clean distraction-free reading experience with simple and beautiful UI.

Eplee is written in Node.js with the Vue.js framework, and it offers packages for Windows, Linux, and macOS.
8- Koodo Reader
Koodo Reader is a modern ebook manager and reader with sync and backup capacities for Windows, macOS, Linux and Web.

Koodo supports the EPUB (.epub) format, as well as dozens of other formats as PDF, DJVU, .fb2, text, .cbr, .cbz, md, .docx, rtf, HTML books and more.

Koodo is available for Windows, Linux, macOS, and the web.
9- Thorium Reader
Thorium Reader is an easy to use EPUB reading application for Windows 10/10S, macOS and Linux.  The app is written using React, TypeScript, and JavaScript, and it is packed to desktop using Electron.
10- Mantle
Mantle is a desktop application for reading e-books of the EPUB format. It currently has a minimal user interface and is still early in development so is not yet feature complete.

Mantle supports opening multiple books in tab view, and allows users to reflect the reading direction. Mantle is released under MIT license.
11- ePubViewer
ePubViewer is a self-hosted web-based ePub and eBook viewer with dictionary, themes, search, offline support, and more.

The ePubViewer app works smoothly on all modern browsers, and comes with a dozen of useful features for web users.
12- Bibi
Bibi | EPUB Reader on your website. It helps users and developers publish their ePub files online and embed them into their websites.
Bibi supports EPUB 3+ and EPUB 2. It is an open-source project, released under MIT License.
The $ epr or ($ epr) is a free, open-source terminal/CLI EPUB reader written in Python 3.6. It is a feature-rich app for old school users who like to do their work from the terminal.
It is easy to configure, customize, and comes with a simple key bindings and command which are easy to use and memorize.

The $ epr app supports EPUB3, adjusting text, dark/ light color scheme, images, and many more.

The app is written with Python3 programming language, and works on Windows, Linux, and macOS.
14- Epub.js
Epub.js is a JavaScript library for rendering ePub documents in the browser, across many devices.

Epub.js provides an interface for common ebook functions (such as rendering, persistence and pagination) without the need to develop a dedicated application or plugin. Importantly, it has an incredibly permissive Free BSD license.
15- EveReader  
EveReader is a free, open-source Epub Reader that focuses on annotation.  It is available for Linux, Windows, and the web. The macOS port is a work in progress.

EveReader is released under the AGPL-3.0 license.
16- Librera Reader  
Librera Reader is an e-book reader for Android devices; it supports the following formats: PDF, EPUB, EPUB3, MOBI, DjVu, FB2, TXT, RTF, AZW, AZW3, HTML, CBZ, CBR, DOC, DOCX, and OPDS Catalogs.
17- FolioReaderKit
FolioReaderKit is a free, open-source native EPUB reader and parser framework for iOS devices, written in Swift.
18- FolioReader-Android
FolioReader-Android is an open-source EPUB reader written in Java and Kotlin.
19- BookPub
BookPub is an  EPUB Reader for Android. It is light, free, open-source (Apache 2.0 License), and offers a full support for for EPUB3.
20- Wiley eText (macOS)
Wiley eText is an education reader developed by Wiley Publishing.

21- Web Publication Viewer
This project is a proof of concept for handling Web Publications and the Web Publication Manifest in a browser.
22- Lisons!  
The Lisons! App is a desktop e-book reader for language learners. It facilitates learning from reading by providing machine translations (DeepL, Google) as well as human-translated example sentences (Tatoeba, Reverso Context).
23- Duofolio
Duofolio is a native, simple e-book (EPUB) reader that helps you read books in other languages.
24- iRead
iRead is a native EPUB reader for iOS written in Swift. You can download it directly from the Apple App Store.
26- Termpub  
The Termpub is an EPUB reader for the terminal. It is a free, open-source solution for Linux, and macOS.  It supports EPUB 3 formats, image browsing, table of content "TOC", saving the last position, and more cool features.
27- Quasar Epub reader
Quasar EPUB Web is an EPUB reader made with Quasar framework and EPUB.js library.
28- NovelDokusha
NovelDokusha is Android web novel reader. Reader focused on simplicity, improving read immersion. Search from a large catalog of content, open your pick and just enjoy.
29- Bibliotheca
Bibliotheca is a free, open-source Android app for reading EPUB formats.
30- Xepub
Xepub is a lightweight cross-platform(major Linux distros) epub reader written in Node.js, which need a modern browser like Chrome, Firefox, or Electron.

31- DocViewer for Firefox OS
DocViewer is an app that allows users to read documents in different formats: EPUB, PDF, and ODF (ODT, ODS, and ODP). It originally developed for Firefox OS, but can be installed as a web app.
32- BookStop
BookStop is an open-source, project that can turn your computer into a digital library. This creates a local website interface that you can use to manage and read your books in a simplistic beautiful way.
33- EPUBReader for Google Chrome
The Google Chrome is properly the most used Web browser, it has a vast ecosystem of extensions, and themes. Here is our first EPUB reader extension pick.
34- Lithium: EPUB Reader for Android
Lithium is a free, feature-rich EPUB reader for Android devices.
35- ePub Reader for Google Chrome™
Yet another ePub reader extension for Google Chrome.
36- EPUB READER
EPUB Reader extension is a simple Chrome extension for reading EPUB with full offline support.
37- EPUBReader for Mozilla Firefox
If you use Mozilla Firefox instead of chrome, you may need to check this awesome extension, it allows you to view, read your EPUB files without leaving the browser.
---
If you know of any other, free and open-source EPUB eBook reader that we didn't mention here, let us know.