A file finder or file search app is a software tool that allows users to locate and retrieve specific files stored on their computer or local network. It is particularly useful when dealing with large amounts of files and folders, as manually searching for a specific file can be time-consuming and inefficient.
On Windows operating systems, a file search app is essential for several reasons:
Efficiency: With a file search app, users can quickly locate files based on various search criteria such as file name, file type, file size, modification date, and even file content. This saves time and effort compared to manually browsing through folders.
Organization: When dealing with a large number of files, it can be challenging to keep track of their locations. A file search app helps users organize their files by providing an easy way to search and retrieve them when needed.
Productivity: By efficiently finding files, users can improve their overall productivity. Whether it's locating important documents, project files, or media files, a file search app enables users to access the required files promptly, leading to smoother workflows.
Advanced Features: Many file search apps offer additional features like filtering, bulk file operations, advanced search options, and integration with other software tools. These features enhance the user experience and provide more control over file management tasks.
In summary, a file search app for Windows is a valuable tool that helps users locate, manage, and retrieve files quickly and efficiently, ultimately improving productivity and organization.
If you are looking for a duplicate file finder, we got you covered in the following article:
In this list, we offer you the best open-source file search apps, and file indexer cataloges for Windows platforms.
1- DocFetcher
DocFetcher is a powerful and user-friendly Open Source desktop search application. With DocFetcher, you have the ability to effortlessly search and retrieve the contents of files stored on your computer, making it a convenient tool for efficient file management.
This innovative software can be likened to having your own personal Google, but specifically designed to index and search through your local files. Whether you are using a Windows, Linux, or Mac OS X operating system, rest assured that DocFetcher is compatible and readily available for use.
Features
Portable version available
Full Unicode support for all supported file formats
Can read the following archive formats: zip, 7z, rar, tar.*
Can read Outlook PST files

2- MIF
The MIF is an exceptional file searching tool based on the FastSearchLibrary. This remarkable tool employs a high-speed multithreading search algorithm that efficiently utilizes a substantial portion of processor resources.
Features
Search files
View finding files
Copying finding files
Moving finding files
Deleting finding files
FileSharper is a C#/WPF file search and processing application designed for developers and power users. It enables you to search for files that meet specific conditions such as length or content, and perform actions on them, such as replacing text content or adding files to a zip archive.
It offers a graphical user interface as an alternative to command-line workflows that rely on UNIX tools like find, grep, sed, sort, and more.
4- File Search
FileSearch is a multithreaded documents' searcher. No indexes need to be updated ; no background service is required. The more you have drives the more search speed is increased thanks to its multi-threading technic.
Features
File search
Advanced file search with filters
Export results to CSV files
Fast multi-threading

5- FileMasta
FileMsta is an open-source federated search application for discovering interesting files that are being shared online, such as video, music, books, software, games, subtitles and much more. All data is crawled by od-database which collects information about the contents of servers worldwide. We don't search file contents.
6- Orient
Platforms: Windows, Linux, and macOS
Orient is an open source cross-platform filesystem indexer and searcher combining the merits of find, locate and Everything, plus file content searches. Works on Linux, macOS, and Windows.
7- KatSearch
macOS
KatSearch is a native open-source powerful file search engine for macOS platform that aid advanced power uses to find and locate their files quickly.
Features
Fast, native, modern macOS app with a responsive, powerful, no-nonsense interface
Displays live search results
Scans the actual file system, not just the userland files Apple wants you to see
Can run with admin privileges to find all files irrespective of permissions
Ubiquitous native drag and drop behaviour, with hooks into Finder actions/services via contextual menu
Supports all the standard Finder keyboard shortcuts for file actions
Search windows can be invoked using a global hotkey
Includes searchfs, a command line tool counterpart
Free, open source software written in Objective-C/Cocoa
8- indexa
Indexa is a free and open-source tool that allows users to find.
9- FSearch
FSearch is a fast file search utility, inspired by Everything Search Engine. It's written in C and based on GTK3.
Feature
Instant (as you type) results
Wildcard support
RegEx support
Filter support (only search for files, folders or everything)
Include and exclude specific folders to be indexed
Ability to exclude certain files/folders from index using wildcard expressions
Fast sort by filename, path, size or modification time
Customizable interface (e.g., switch between traditional UI with menubar and client-side decorations)
10- File-Search-Engine
This is a terminal based/command line based search engine to search files on a local computer system.
11- OdinSearch
OdinSearch is a tool written in C# that lets users search thru local file systems for matches. The engine provides an expandable achritector by letting the developer expand on what the engine does with matching output. It's recommanded the user have some programming experience to use this.
Features
Search thru the local file systems. OdinSearch engine was built mainly to enable searching thru the files and folders on the machine it's running on.
Customizable Match response. What OdinSearch does with matching files depends on what commuication class is fed to it when begining the search. It already has some prebuilt ones such as sending matches to the console that can act as a starting base.
Ease of getting started and extensibility. There's about 4 classes to become familier with if all you need is searching and dealing with output.
12- rexCrawler
rexCrawler is a free and open-source Versatile, Windows-based file system searching tool that leverages regular expressions.
13- drep
drep is a free basic clone of grep (or more accurately, rgrep) written in Deno with no third-party dependencies. It uses workers to search files in separate threads, making it faster than standard grep (but not faster than other modern versions like ripgrep).
14- CoeuSearch
CoeuSearch is an NLP based intelligent local-file search engine that searches for relevant text documents in a specific folder, considering the semantics of the file's name & it's content and returns the most relevant files.
It supports several file documents that include .docx, txt, pdf, ppt, and csv.
You can also search file directories, or set a specific search query.
15- FFS (Fast File Search)
Fast File Search or FFS is a free and open-source file search extension written for Python and C++. It supports Linear search, Depth First Search, Tree Search, and comes with a strong file indexer.
16- AstroGrep
AstroGrep is a free Windows search app that enables you to look, search, and find files quickly. It supports regular expressions.
Features
Regular expressions
Concurrent multiple file types
Recursive directory searching
A "context" feature that selects the lines above and below your search expression
Versatile exporting and printing options
RIght click to open file with editor of your choice at specific line (if setup)
Store Most Recently Used file names, file types, and search expressions
Match Whole Word Only
File encoding detection (ability to turn off and override for individual files)

17- File Search Classic
Old school search application for Windows 2000 and above, updated with lots of added features, but without the features you hate.
Features
Fast & intuitive user interface. Does not get in your way.
Recall previous search file, text, and path patterns separately.
(example: search the same path as yesterday but for a different file)
Direct Search; no indexing. Up-to-the-minute results, no annoying background tasks.
No phoning home at all, ever. Your recent search terms are stored, but they stay on your PC.
Custom File Viewer/Editor: override Windows' default double-click action.
Text Search with optional wildcards or (VBScript-style) regular expressions.
Search in multiple folder trees, with optional wildcards and exclusion pattern
Windows Explorer Shell functionality: dynamic context menu, drag and drop.
Special file patterns: for example, ">text" finds all "text-like" file types.
Exclusion patterns for files and folder paths
(for example, "*.txt|/junk" finds all text files EXCEPT those with "junk" in their names)
Works at low priority, so you can do other things while searching.
(search may be paused and resumed)
(partial results can be used while search continues)
(in other words, it's slow, but that's on purpose, I swear)
Did we mention there's no animated animals?

18- Ultra Fast File Search
Ultra Fast File Search for Windows: Command-line tool for lightning-fast searches (non-commercial use only).
UFFS and any other tools in this category require administrative privileges for low level read access to NTFS volumes. Windows manages this through it's User Access Control (UAC).
19- Explorer++
Explorer++ is a lightweight and fast file manager for Windows.
Features
With the option to save to the registry or a configuration file, Explorer++ is completely portable
Tabbed browsing for easy management of multiple folders
Display window shows previews of files as they are selected
Easy-to-remember keyboard shortcuts for quick navigation
Customizable user interface
Full drag-and-drop support with other applications, including Windows Explorer
Advanced file operations such as merging and splitting supported
Change file dates and attributes
Save a directory listing
Bookmark tabs
Search for files using their name and attributes
Switch between icon, list, detail, thumbnail and tile view
Filter files

20- Grepy2
Grepy is a Windows utility that allows you to quickly and easily search through files for a text string.
Features
Allows you to search through files for text using regular expressions.
The search results window displays file text before and after the search match to let you see the context around the match.
Grepy has a clean and uncluttered interface that allows you to search for what you want with minimal keystrokes and mouse clicks.
Uses Windows File Explorer integration so you can quickly search specific folders by right-clicking on them.
Saves previously used search expressions, filespecs and folders in a drop down list so you can quickly reuse previous entries (saves typing).
Saves the position and size of all windows, sliders and column sizes so the layout stays the way you want it to be.
Will automatically skip binary files (.exe, .obj, .lib, .bin, etc.) during searches to save time.
Lets you assign a custom editor application to use to open files (to override the default Windows File Association).
Uses a configurable number of background threads for file searching which allows you to immediately open files as the search results are populated.
Grepy is small (loads quickly) and fast (searches very quickly).
If you have the Everything search engine installed, Grepy will automatically use it to collect the list of files to be searched.
21- Fetch
Fetch is an open-source folder/ file search engine that indexes all of your folders and the included files in an easy to access fast index for a fast search results.
Fetch allows you to find and open folders on your computer by indexing your directories and using approximate query matching, Fetch allows you convenient access to your data at much faster speeds. You can also search within subdirectories.
Features
Search folders
Approximate query matching
OS wide indexing
Periodic indexing
Ranked results
Subdirectory search
Custom themes
Inclusions and Exclusions lists
22- GoSearch
GoSearch is a powerful yet user-friendly application tailored for Windows users, revolutionizing the way you search for files, programs, and information on your computer.
With its advanced search bar, GoSearch offers a seamless and lightning-fast experience, enabling you to effortlessly locate and access what you need in record time.
Say goodbye to the hassle of navigating through numerous folders – GoSearch simplifies your search process, making your Windows experience more efficient and enjoyable.
GoSearch has a simple yet elegant design so there is no need for that big bulky windows SearchBar anymore and you can now replace it with GoSearch. GoSearch allows you to favorite files and also has a built in recommendation page.
23- Text Search Tool
This is a versatile text search tool developed in Rust that allows you to search for specific patterns in files and directories. It offers various search options, including case-insensitive searching, non-matching results, and the ability to search within directories.
Features
Search for patterns in files and directories.
Option for case-insensitive searching.
Find files that do not match the specified pattern.
Search within directories and their contents.
Define search depth within directories.
Parallel searching using multiple threads.
Easy-to-use command-line interface.
24- Haystack
Haystack is an open-source cross-platform fast text search tool that allows you to look for your text across files and folders. It supports many text file extensions.
25- grepWin
grepWin is a simple search and replace tool which can use regular expressions to do its job. This allows to do much more powerful searches and replaces.
26- SearchMyFiles
SearchMyFiles is an alternative to the standard Windows search module. It allows you to easily search for files in your system using various criteria such as wildcard, time of modification/creation/access, file attributes, file content, and file size. SearchMyFiles offers a more precise search than Windows search.
For example, you can search for files created in the last 10 minutes with a size between 500 and 700 bytes. After performing a search, you can save the selected files in various formats or copy the list to the clipboard. SearchMyFiles is portable and can be run from a USB flash drive without leaving any traces in the Registry of the scanned computer.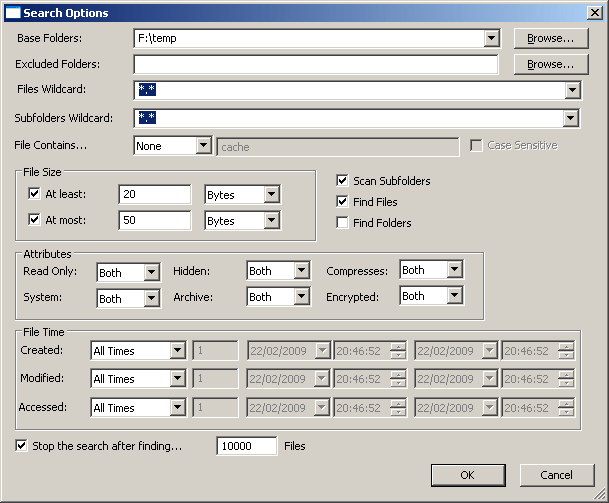 27- Large File Finder
This is a free tool that can help you to find out the largest file on you disk.

28- Empty Directories Finder
Empty Directories Finder expires empty directories and allows you to conveniently select the required directories before deleting. New version available. Improved user interface.
Features
Very simple user interface
Selecting directories before deleting
File filter
Portable
Fast (new version)
Information about content

---