What is a Knowledge Management Solution?
A knowledge management solution is a software application designed to capture, store, and share information within an organization. It allows for the efficient management of data, documents, and other forms of content.
The ultimate objective of a knowledge management application is to facilitate easy access to information for employees. The app provides a centralized location for data, which is accessible only to authorized personnel. This promotes collaboration, enhances decision-making processes, and boosts overall organizational performance.
Common Features of Knowledge Management Apps
Some key features of a knowledge management app include:
Document management: The app enables the organization to store and manage documents in a centralized location. This reduces duplication of efforts and enhances the accessibility of information.
Search functionality: The app provides a search feature that empowers employees to quickly locate the required information. This saves time and improves organizational efficiency.
Collaboration tools: The app offers tools for employees to collaborate on projects and share information. This promotes communication and fosters teamwork.
Analytics: The app provides analytics that help in measuring the effectiveness of the knowledge management system. This facilitates continuous improvements, ensuring that the system meets the ever-evolving needs of the organization.
In this post, we present the best open-source, free knowledge base solutions for individuals, freelancers, teams, and enterprises.
1- Obsidian (Desktop)
Obsidian is a free and open-source knowledge-base IDE that enables you to write and edit large collections of Markdown text files, connect your ideas and notes, and search through everything with ease. Obsidian also supports third-party plugins, automatic topic discovery, and automatic classification.
Platforms: Windows, Linux, & macOS.
2- Dendron (Desktop)
Dendron is an incredibly useful VS Code extension that enhances your IDE with a rich knowledge-base. Installing Dendron on VS Code or VSCodium is a breeze - just search for "Dendron" in your extension search and install it like any other extension. With Dendron, you'll have an even more powerful and efficient coding experience.
Platforms: Windows, Linux, & macOS.
3- Logseq (Desktop)
Logseq is a free, open-source platform for knowledge management that prioritizes privacy, longevity, and user control. It offers tools for collaboration, annotating PDFs, and task management across multiple formats.
The Whiteboard feature lets you spatially arrange your knowledge and ideas using a canvas with shapes, drawings, website embeds, and connectors, allowing visual thinkers to compose and connect content in new ways.
4- Trilium (Desktop)
Trilium Notes is a productivity booster open-source note-taking manager that enables anyone to create personal rich knowledge-bases in with WYSIWYG and Markdown format. It supports note versioning, note/ doc sync, multi-languages, note sharing, and connection between notes.
5- Zotero (Desktop)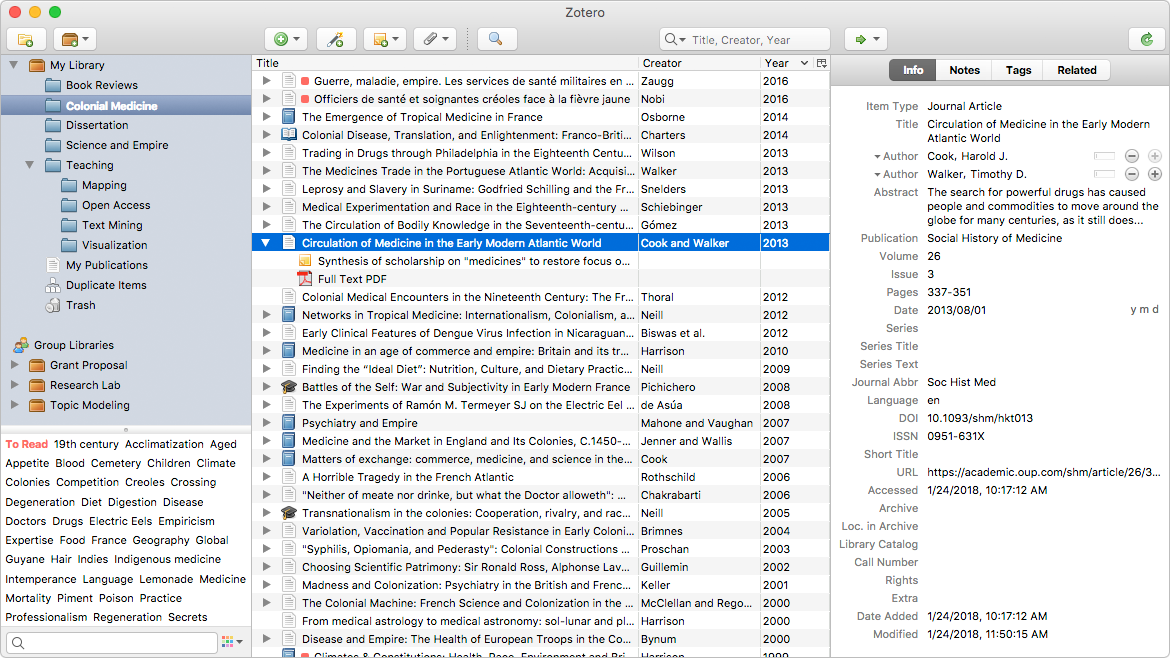 Zotero is an incredibly robust collection management and knowledge base solution ideal for individuals, researchers, and teams. With Zotero, you can create collections, organize your notes, links, or other items, and establish relationships between them. You can easily search your notes, directly collect items or links from your browser using the web clipper extension, cite links, and sync your collections. With these impressive features, Zotero is an essential tool for anyone looking to manage and organize their research and knowledge with ease and confidence.
6- AFFiNE
AFFiNE offers a different approach as it has a features mix from Notion.so and Miro collaboration platform. It is a self-hosted open-source solution with features similar to Notion, including table and kanban views, markdown support, and offline-first capabilities. It can be easily installed on a local machine or server using Docker.
7- Foam (Desktop)
Foam is a powerful personal knowledge management system built on Visual Studio Code. It provides tools for organizing research, taking notes, and writing long-form content. Foam also enables publishing your content to the web for easy sharing.
8- SiYuan
SiYuan is an exceptional local-first personal knowledge management system that provides unparalleled support for fine-grained, block-level reference and Markdown WYSIWYG. It comes with a rich editor, multiple export options, and a smooth installation process using Docker.
9- Outline (Web-based)
The Outline app is an exceptional, self-hosted wiki engine and collaborative knowledge base for teams. Its sleek and sophisticated interface elevates productivity to new levels. With a plethora of features that enable more efficient collaborative writing and editing, it is the perfect tool for use by even the largest of teams.
10- Archivy (Web-based)
Archivy is a great open-source tool that helps you learn and save information using your wiki. It's a bookmarking and archiving system that allows you to save any webpage content instantly. With Archivy, you can easily add notes and connect them, and search everything with its powerful search. Its user-friendly interface lets you organize your notes and bookmarks, and customize your wiki. Whether you're a student, researcher, or just someone who wants to track their ideas, Archivy is the perfect tool for you.
11- ZimWiki (Desktop)
ZimWiki is an exceptional multi-platform desktop wiki that boasts multiple workspaces, import/export functionalities, and an impressive plugin system that enhances your writing experience.
Platforms: Windows, Linux, and macOS.
12- Memex (Browser: Mozilla Firefox and Google Chrome)
Memex is a knowledge-base system that you can run directly from your browser as an extension/ plugin. It is also available for Android and iOS.
Conclusion
In conclusion, a knowledge management app is an invaluable tool for any organization that aims to streamline its information management processes. The app enhances collaboration, communication, and decision-making processes, thereby boosting organizational performance.
Connected Posts
More Related Articles in Productivity